Common types of wood-destroying insects in Washington
Wood-destroying insects are considered to be any insect that causes damage to wood, timbers, building materials, and furniture. These particular insects have the potential to cause destruction to moisture-damaged, decaying, or sound wood (new or old), and if they are not completely eliminated, the damage they do can be significant and costly.
Anobiid Powderpost Beetles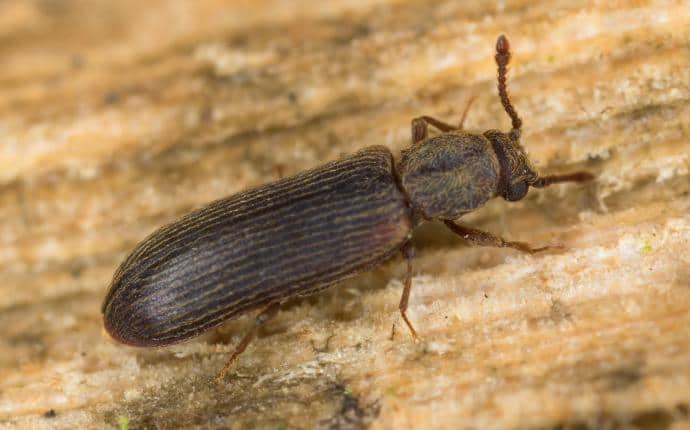 Adult anobiid powder post beetles are reddish-brown to black in color and grow to be between 1/16-1/4 of an inch in length. They have winged bodies that are cylindrical and elongated and covered in fine hair. They also have hood-like body segment that are located directly behind their heads that aids in camouflaging. Their larvae are slightly smaller than the adults, white in color, grub-like in appearance, and c-shaped. These wood-boring beetles attack older items made of either hard or soft wood.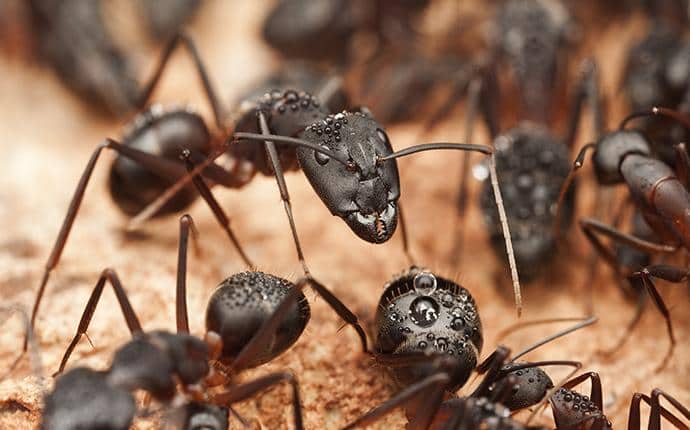 Examples of wood-destroying ants that are common to the Washington area include the carpenter ant and the velvety tree ant. Please visit our ant pest identification page to learn more about these two ant species.
Lyctid Powderpost Beetles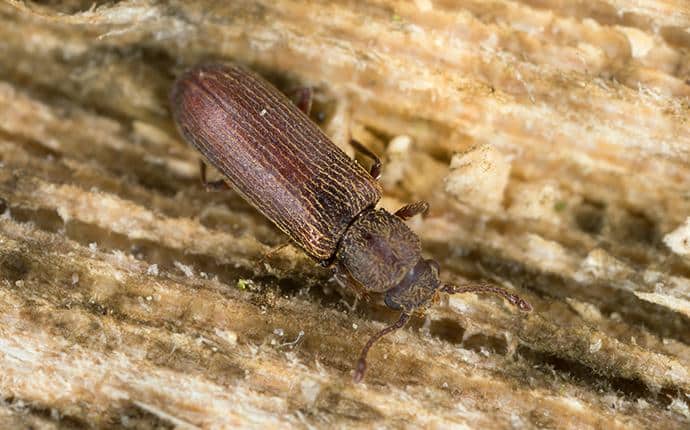 Adult lyctid powder post beetles are dark, reddish-brown to black in color and grow up to a quarter of an inch in length. They have hard, flat bodies, six legs, and two antennae on their heads. Their c-shaped larvae are cream-colored. These wood-boring beetles are attracted to new, hard woods.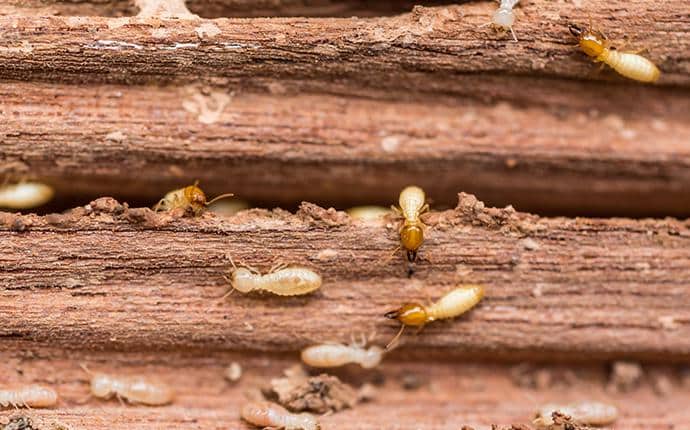 Why do I have a problem with wood-destroying insects?
Wood-destroying ants and termites typically enter homes unintentionally through small cracks and crevices found in a home's foundation, or through spaces found around exterior walls, windows, and doors while they are out and about foraging for sources of food.
Wood-destroying beetles often enter into homes inside timbers, wooden furniture, barn wood, or in other wooden items that are already infested with their eggs or larvae.
Wood-destroying termites and beetles are extremely difficult to detect and treat because they are rarely seen by people, as they spend most of their lives inside the wood they are invading.
Ants on the other hand, while still difficult to eliminate without professional help, are commonly seen by homeowners as they wander around outside and inside homes foraging for food.
Are wood-destroying insects dangerous?
Wood-destroying insects do not bite, sting, or transmit disease. They do cause serious and extensive damage to wood including timbers, drywall, and other building materials.
How do I get rid of wood-destroying insects?
At Prosite Pest Control, we offer effective pest control services that eliminate wood-destroying insects. When you reach out to us, we'll conduct an onsite inspection to accurately identify the pest(s). After that, we'll develop a plan of action to exterminate the culprit and prevent new infestations from occurring. Give us a call for more information. You can also visit our termite control page to learn more about our termite control services for Ellensburg.
How do I prevent problems with wood-destroying insects?
To stop termites, carpenter ants, and other wood-destroying insects, we recommend following these prevention tips:
Correct any moisture issues in your home.
Fix leaking pipes and appliances.
Replace rotting or water-damaged wood.
Seal cracks, gaps, and openings that would allow insects to enter.
Store firewood away from the home.
Paint or stain exposed wood.
Buy only wood that has been properly stored and dried.
Inspect antiques for signs of damage before bringing them into your home.
Helpful Wood-Destroying Insect Articles
Get Your Consultation Now!
Schedule Today! Please enter your contact information below and a pest control representative will contact you soon.
Affiliations & Accreditations