There is nothing that will cause you to become more irritated or cause you to lose your appetite more quickly than a fly. Flies get into your house through various cracks and crevices, buzzing around your head and eating any sticky substance they can find on the counter.
When fly infestations are severe, the environment can resemble a scene from a horror film. In the span of a single day, you might notice hundreds of flies clinging to the screen of your patio door in an effort to come inside your home.
Cluster flies, house flies, drain flies, fruit flies, and gnats are just a few of the many species of flies that may be found in and around homes in Kittitas County. Gnats are also a common fly species in the area. It is possible for all of these flies to enter your home through particular access points, such as the gaps around your windows and doors, ripped or torn screens, or external doors and windows that are left open on a frequent basis.
If you don't seal up these points of entry, there is a good chance that you will end up with an influx of flies making their way into your home, which will lead to an even larger infestation and further complications.
If you find your home being infested by flies, don't delay in contacting Prosite Pest Control, your local expert for Kittitas County pest control.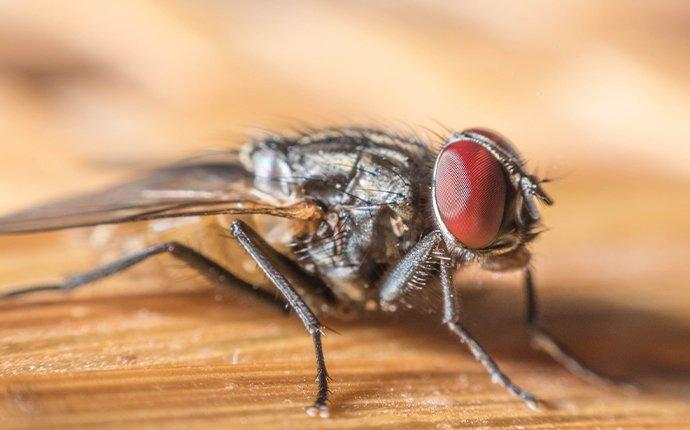 Common Types Of Flies That Infest Kittitas County Homes
If you have a fly infestation and are trying to figure out where all of the flies are coming from, the first and most important step is to correctly identify the species of flies causing the problem. Knowing which type of fly you are dealing with can help you understand why you have a fly problem and what steps are going to be most helpful in getting rid of the infestation in your home.
Learning more about the various species of flies that are common in Kittitas County will help you better understand how to get rid of flies and keep them away from your Kittitas County home. There are several species of flies that are common in our area, including:
Fruit Fly: Fruit flies have yellowish-brown to brownish-black bodies, red (or brown or black) compound eyes, and translucent wings. Fruit flies can be 1/8 inch long. Fruit fly larvae have tapered and rounded bodies that are white with two dark mouth hooks.
Fungus Gnat: Black or grayish fungus gnats have long, thin legs and Y-shaped wings. Fungus gnats are tiny, fragile flies that develop to 1/8 of an inch. They have translucent worm-like larvae with a black head capsule.
House Fly: Gray house flies feature silky patterns on their cheeks and thorax. Their bodies contain four narrow stripes. House flies grow to a quarter inch long and have spongy mouthparts for liquids. Their cream-colored, oily larvae lack eyes and legs and have tapered bodies.
Cluster Fly: Cluster flies are also gray and slightly larger than house flies. Their thoraxes, legs, and wings overlap when not flying. Cluster flies "cluster" together in wall voids, attics, and crawl spaces to overwinter.
Drain Fly: Drain flies are dark gray in color with fuzzy bodies. They grow to be an eighth of an inch long and have broad wings. Known to be poor fliers, they fly in short, frantic courses. Drain fly larvae are legless, white worms.
If you recognize any of these fly species coming into your home, contact Prosite Pest Control to help get rid of these troublesome pests before their population has a chance to grow even further.
How Fly Infestations Can Be A Health Concern
The five species of flies most commonly known as pests are drain flies, house flies, fruit flies, phorid flies, and fungus gnats, according to a recent survey conducted among pest management professionals across the country. All of these different kinds of flies are considered synanthropic pests, which means that they thrive best when they are in close proximity to people.
These kinds of flies are sometimes referred to as "filth flies" because of their propensity to lay their eggs on sources of decomposing organic matter, such as feces, animal carcasses, rotting food, and compost piles. Due to this, it should not come as a surprise that filth flies can carry more than a hundred distinct pathogens known to cause sickness in humans, some of which are resistant to the available antibiotic treatments. In spite of this, it is unknown whether or not the mechanical transmission of fly-borne infections to humans is a common cause of human disease. The fact that huge fly populations appear to be linked to a number of illness outbreaks leads many specialists to believe that filth flies present a genuine risk to the public's health.
Six No-Sweat Fly Prevention Tips For Around The House
It might not seem like much of a problem if you only have a couple of flies in your house, but once those flies start breeding, you'll see a significant increase in the number of flies in your home very quickly. This will turn what you thought was a minor problem into a significant one in no time at all.
Females will start the process of laying eggs only 48 hours from the time they first become adults. During her mature life, which lasts around one to three months, female flies are capable of laying four to five batches of eggs, each containing between 100 and 150 eggs. These eggs will hatch within 48 hours into smooth, white maggot larvae that do not have legs. After three molts, the larvae will mature into pupae, and the infestation will grow.
The great news is that there are a few things you can do around your house to assist in preventing flies from establishing a dominant population. These preventative home remedies to keep flies away include:
To reduce the amount of fly activity in a particular area of your house, you can install an oscillating fan.
In order to reduce the number of insects attracted to outdoor light fixtures, sodium vapor lighting should be used.
Take out or put away anything inside that could attract flies. This can include food that is left out and clogged drains. Always take out the garbage regularly, scrub the sinks thoroughly, and never leave food exposed to the elements for an extended amount of time.
Check the mesh screens around the doors and windows to ensure that they are free from any tears or openings and that they fit snugly to prevent unwanted bug visitors.
Maintain a consistent routine of cleaning and sanitizing the kitchen and bathroom. Clutter, such as crumbs and spills, should be cleaned up as soon as they occur, and locations, such as underneath and behind appliances, should receive special care.
Maintain a regular cleaning schedule for your property areas containing pet feces.
If you follow the advice in this article, you should be able to reduce the number of flies in your home significantly.
Fly control is an absolute necessity, regardless of whether your goal is to remove flies from your home to safeguard your family's health. The exterminators at Prosite Pest Control, who specialize in pest control in Kittitas County, are an ideal choice. We are able to assist in the eradication of all types of flies and provide recommendations to eliminate environments that are conducive to the breeding of flies to prevent a recurrence of an infestation. Additionally, we provide services that will rid your home of various other insects, such as bed bugs, termites, rodents, and more.
Get in touch with Prosite Pest Control right away for a comprehensive pest control regimen in Kittitas County or the surrounding areas.
Professional Pest Control Is A Great Way To Keep The Flies Away
When getting rid of flies in your home in Kittitas County, the most effective method will always be to hire a company specializing in pest treatment. At Prosite Pest Control, we specialize in getting rid of living flies as well as eggs, larvae, and other stages of the fly life cycle so that no new generations can develop.
Our extermination experts are well-versed in the subject of flies. They are familiar with the habits of these pests, including the foods they prefer and the locations where they hide, breed, and nest. In addition, you can rely on the experience of our pest control technicians in dealing with flies and other kinds of insects and vermin. When it comes to pest control, effectiveness is something that is always assured. If you take advantage of pest control for flies from the experts at Prosite Pest Control, your fly problems will be gone for good.
When it comes to effective and professional pest treatment in central Washington, look no further than the exterminators from Prosite Pest Control. Give us a call today!
Get Your Consultation Now!
Schedule Today! Please enter your contact information below and a pest control representative will contact you soon.
Affiliations & Accreditations