What are Oriental cockroaches?
Oriental cockroaches are one of the more common species of cockroaches found living throughout the United States. Therefore, they are, unfortunately, a familiar sight in and around our homes and businesses.
Oriental cockroaches have an elongated, almost pill-shaped body that is shiny and black. Adults grow to about one inch in length, and undeveloped wings prevent this species from being able to fly. These roaches are more sluggish and slow-moving than other species of cockroaches in Central Washington.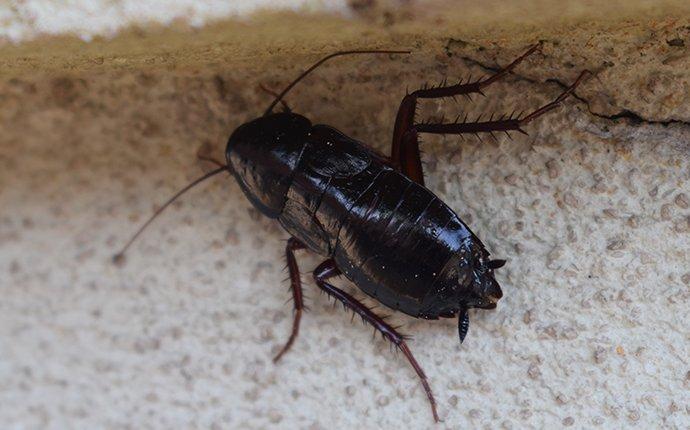 Why do I have a problem with Oriental cockroaches?
When the weather is warm, Oriental cockroaches like to live outside in damp, humid areas. However, if the weather outside becomes too cool for their liking or during periods of very hot dry weather, they move inside buildings seeking areas with high levels of humidity and moisture.
These greasy insects move inside through vents, drains, air ducts, and garbage shoots. It is also common for these roaches to accidentally come inside on food packaging, delivery boxes, or laundry stored in an area where Oriental roaches were present.
Where do Oriental cockroaches nest?
Oriental cockroaches live in a variety of damp, dark areas. Outside, they live in and around garbage piles, sewers and drains, mulch, leaf piles, and in damp soil near the foundation of buildings. They also like to live under porches and decks.
After moving indoors, Oriental cockroaches stick to their preferred living conditions and move to crawl spaces, basements, utility rooms, kitchens, and bathrooms. They like to live near drains, pipes, and other areas of moisture. Oriental cockroaches prefer to stay at ground level and are rarely seen crawling up walls, in upper cabinets, or in the upper levels of a home.
Are Oriental cockroaches dangerous?
Like other species of roaches, before moving into your home they were living in garbage and other areas of filth. Oriental cockroaches cause a variety of problems and dangers for people when they decide to live near or in our homes.
They contaminate food, food prep areas, utensils, bowls, and other surfaces of a home with bacteria, parasites, and human pathogens that they carry on their body and legs.

Cockroaches create the need for a large amount of food to be discarded as they contaminate more food than they are able to consume.

Their shed skins and excrement create an allergic response in many people. It is common to feel "under the weather" when cockroaches are present in a home.

The presence of cockroaches in a home often triggers asthma attacks, especially in young children.

In large numbers, Oriental cockroaches create an unpleasant odor in your home.
How do I get rid of Oriental cockroaches?
Cockroaches are annoying, frustrating, and difficult pests to control. If you've found Oriental cockroaches crawling around in your home or business, contact Prosite Pest Control right away. The best way to get rid of these pests and to keep them from returning is to partner with an experienced professional. Our team will conduct an onsite inspection to accurately identify the species and to develop a treatment plan to get rid of these pests.
If you're interested in learning more about our Oriental cockroach control services in Ellensburg and the surrounding areas, please reach out to Prosite today!
How do I prevent problems with Oriental cockroaches?
At Prosite, we recommend implementing these Oriental cockroach prevention tips for your property:
Rack back leaves and mulch from the foundation of your home.

Cut back overgrown shrubs or bushes from your home's exterior walls.

Make sure gutters and downspouts are in good working order- directing water away from your home's foundation.

Use caulk to seal any spaces discovered in your home's foundation.

Drains and sump pump openings in your home should always have covers.

Place covers over window wells.

Store garbage and recycling bins away from the outside of your home and up off of the ground.

Repair leaky pipes, hoses, or faucets inside or outside of your home.

Use dehumidifiers and air-conditioners to reduce humidity levels in your home.

Remove dry goods from their original packaging and place them in plastic or glass containers with tight-fitting lids; cockroaches can easily chew through cardboard.

Vacuum your home, and keep counters and tables free of food debris.

Limit eating to kitchen and dining areas to reduce the chance of spreading crumbs throughout your home.
Get Your Consultation Now!
Schedule Today! Please enter your contact information below and a pest control representative will contact you soon.
Affiliations & Accreditations