Owning property in Lauderdale Junction really is a blessing. There's the scenic backdrop of the mountains everywhere you go, and who could ask for more than that? Unfortunately, not everything about our town is so serene. Nuisance pests are present here in Lauderdale Junction, and that means your home or business is susceptible to infestation.

For the best pest protection in all of Central Washington, you've come to the right place. Since 2011, Prosite Pest Control has been offering effective, year-round pest control programs to homes and businesses throughout Yakima and Kittitas counties and the surrounding areas. Our pest control treatments are driven by science, and our team of fully certified pest technicians is dedicated to providing exceptional services to each and every one of our valued customers. Our pest control plans start as low as $29 per month, and our treatment strategies are always customized to meet the specific needs of your property and your pest predicament. Call us today to get started.
Residential Pest Control In Lauderdale Junction, WA
If you own a home in Lauderdale Junction, you have a lot of external threats to worry about. There are frequent storms, harsh winter weather, and potential pest infestation. That's right, your house is at risk of experiencing nuisance pest activity, putting you and your loved ones in harm's way. Pest infestation isn't just annoying, but it can be extremely dangerous, which is why year-round protection from the pest professionals is so important.

Prosite Pest Control is proud to offer quality residential pest control services that are always safe for your property, your family, and your pets. We provide all-inclusive pest protection through proactive and preventative solutions that get ahead of the problem. From exterior perimeter treatments and de-webbing to pest-proofing and residential exclusions, it is our duty to guard your home from a pest infestation, whatever it takes.

We offer three levels of pest protection, and each plan is customizable to suit your specific needs. Call us today to learn more about our SiteCare Guardian, SiteCare Advantage, and SiteCare Complete programs. We offer an interior service guarantee, and free re-treatments to keep your property pest-proofed throughout the year.
Why You Need To Control Rodents In Your Lauderdale Junction, WA Home
Rodents aren't just upsetting to see, they can also cause serious issues on your property. They negatively impact the health and safety of everyone in the building, and the consequences can be quite serious. Here are some adverse effects of rodent infestation:
They bring other pests into your home.

Rodents can bite and transmit diseases.

They chew through and contaminate insulation.

Rodents gnaw through electrical wiring.

They leave trail droppings of excrement and rub marks causing widespread contamination.

Rodents scamper inside of wall voids.

Over time, they cause serious and expensive structural damage.

Rodents can weaken the construction and lower the value of your building.
Needless to say, reliable rodent control and prevention services are absolutely key. Here at Prosite Pest Control, we provide comprehensive rodent control solutions that protect you and your property from these negative consequences. Call us today to discuss your rodent situation and how we can help.
Guide To Detecting Bed Bugs In Lauderdale Junction, WA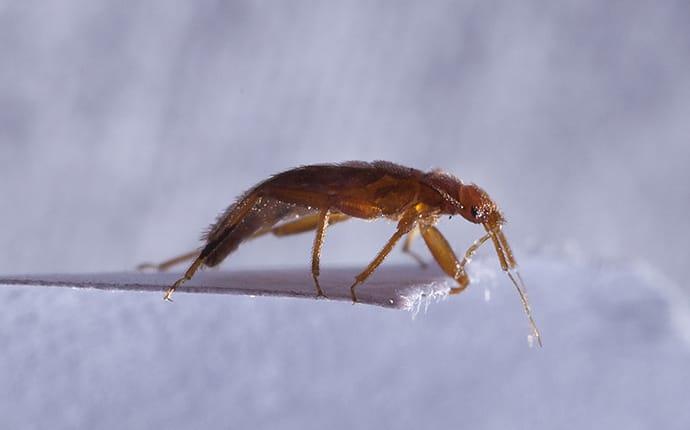 Since bed bugs feed while you are sleeping, it can be hard to catch them in the act. While you are resting, they will discreetly feed on your blood. When you wake, they return to their harborage areas to hide.

If you're not sure how to tell if you have a bed bug problem, there are a few signs to look for. Bed bugs leave behind blood stains on bedding and linens while they feed. You may also see dark, rusty excrement spots and discarded eggshell casings on your mattress or upholstered furniture. Perhaps the most telling sign, however, is waking up with a line of tiny, red bites that you didn't have when you went to sleep the night before.

If you suspect any bed bug activity in your Lauderdale Junction home or business, call us right away. The team at Prosite Pest Control is highly skilled in the accurate identification and efficient extermination of all bed bug activity. Reach out to us today to set up your initial inspection.
Commercial Pest Control In Lauderdale Junction, WA
Owning a business comes with an almost constant set of worries. You don't need anything else added onto the list, but one thing that can't be ignored is the threat of pest infestation. When pests get inside of your business, not only do they threaten your property, but they also threaten your reputation and your future. It's an issue that can quickly grow out of control and become overwhelming. That's why the pest professionals are here to protect you.

We provide reliable commercial pest control services to a broad selection of facilities, including retail stores, food processing, property management, educational facilities, industrial warehouses, and buildings in the hospitality industry. Whatever type of pest situation you're dealing with, our qualified team of pest experts can help. Using state-of-the-art pest control practices and technologies, we guarantee the long-term results that your business needs to survive.

After identifying the nature of the pest problem, we use a customized treatment plan to meet your needs. We work with your staff and managers to educate them on proper sanitation and irrigation practices, so they can be a part of your pest prevention strategy. Our team uses trusted IPM (Integrated Pest Management) solutions to help your property adhere to industry regulations and stay on track to a bright, pest-free future. Contact us today to learn more.
Get Your Consultation Now!
Schedule Today! Please enter your contact information below and a pest control representative will contact you soon.
Affiliations & Accreditations