What are wood rats?
Wood rats look very much like other species of rats except for their tails. Unlike most rats that have scaly hairless tails, wood rats have furry, bushy tails. These rats grow up to 18 inches in length from nose to tail. They have very large eyes and are grayish-brown in color, though their coat color may change a bit by season. Known for creating their nests using objects (plants, sticks, jewelry, coins, insulation, furniture stuffing, etc.), wood rats are also referred to as "pack rats."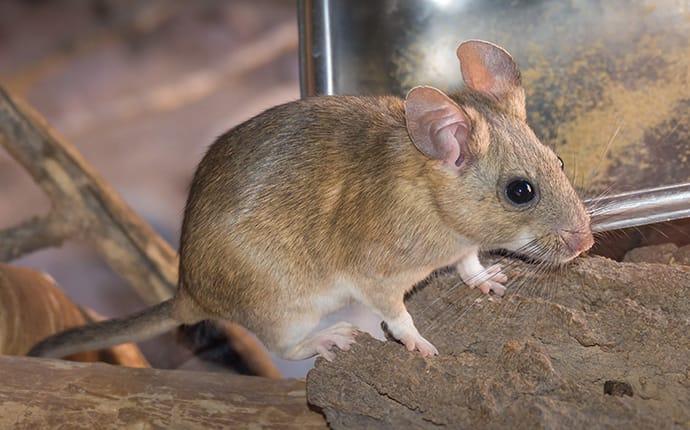 Why do I have a problem with wood rats?
Food, water, and shelter are why wood rats have decided to nest on your Pacific Northwest property. These rodents prefer to feed on things like seeds, nuts, and fruits, so things like gardens, fruit trees, and bird feeders attract wood rats to properties. If given the opportunity, they will find their way inside to search for suitable nesting spots and to forage for food, feeding on things like cereals and grains.
Where do wood rats nest?
Wood rats create complex nests with many "rooms" in them. Outside, they build nests in rock crevices, under shrubbery, or in woodpiles. Wood rats also nest indoors, placing their nests in attics and behind wall voids. They are good climbers and are able to enter structures from the ground or roof level.
Are wood rats dangerous?
Like other species of rodents in Washington state, wood rats are dangerous to have living near or with people. They spread diseases and bacteria that make people ill and they contaminate food sources and the surfaces of homes with their shed fur, saliva, and excrement.
Wood rats are extremely destructive when living indoors. To help create their large nests, they damage upholstered furniture, mattresses, boxes, books, and more. They also "steal" personal items like keys, coins, and jewelry to store in their nests. A home's wires, insulation, cables, and pipes can also be damaged by wood rats.
How do I get rid of wood rats?
If you are looking to get rid of wood rats from your home or property, contact Prosite Pest Control, we specialize in rodent control! At Prosite, we offer comprehensive pest control services that include an inspection.
We begin by conducting a thorough inspection of your property and accurate identification of the rodents on the premises. We then locate entry points and determine what conditions in or around your structure are attracting wood rats. Upon completion of our inspections, we'll discuss our findings and recommend a treatment plan to get rid of the wood rats.
If you're interested in learning more about our mouse and rat control services in Ellensburg and the surrounding communities, contact Prosite today.
How do I prevent problems with wood rats?
At Prosite, we recommend implementing the following rodent prevention tips to keep destructive wood rats out of your Washington home:
Seal cracks and crevices found in your home's foundation, exterior walls, and spaces found around utilities (pipes, wire, and ducts).
Place mesh covers over vents and caps on chimneys.
Cut shrubbery away from your home's exterior.
Cut tree branches back away from your home.
Harvest fruit trees and gardens on a regular basis.
Place metal flashing on the base of fruit trees to prevent rodents from being able to climb up.
Keep tight-fitting lids on trashcans and compost bins.
Remove bird feeders from your yard.
Keep storage areas like basements and closets free of clutter and debris.
Get Your Consultation Now!
Schedule Today! Please enter your contact information below and a pest control representative will contact you soon.
Affiliations & Accreditations