When you find springtail bugs in your Yakima County house, it can be more than a little bit disturbing. These tiny insects enter homes in larger numbers and they spring through the air like fleas. Fortunately, their ability to spring through the air is the only thing they have in common with fleas. Join us as we look at springtails up close and discuss how springtail pest control in Yakima County works.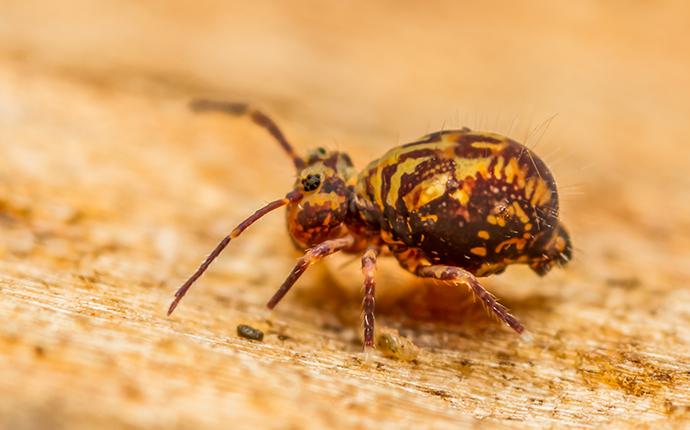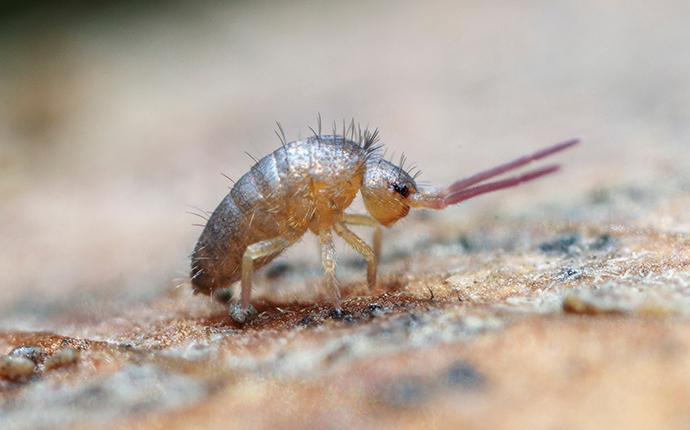 What Does A Springtail Look Like?
A springtail is about 1/16 of an inch long. Alone, it isn't much to look at, but when it is with a hundred of its family members, they are hard to miss. If you chance upon a springtail in your home, it isn't likely to be all by itself. This is one of the first ways to tell that springtails are the pests you're dealing with. Another telltale springtail sign is that you'll find these insects near points of moisture. That brings us to the next fact we want to share.
What Attracts Springtails?
If you have springtails in your Yakima County house, there is a good chance you have a moisture problem. These insects are not going to live near a home that has a dry perimeter. What causes moisture problems? Here are a few to consider:
Clogged gutters. The job of your gutter system is to channel rainwater down and away from your exterior walls. When water pours over the sides of gutters or leaks out of gutters, it causes perimeter saturation.

Dense vegetation. The plants in your landscaping can trap moisture if they aren't kept trimmed.

Leaves. If you have leaf litter or leaf piles, you're going to provide a habitat for springtails. Moisture can collect on top and underneath leaves.

Weeds. Unwanted vegetation can fill in the gaps between the plants in your landscaping and trap moisture.

Plumbing issues. Even a small leak in pipes, spigots, or sprinkler hoses can create a lot of dampness over time.
If you correct these issues, it can help you prevent a springtail infestation in Yakima County, but what do you do if you already have an infestation? What do you do if you're finding springtails in your bathroom and springtails in your bathtub?
Five Steps To Handle A Springtail Infestation
If you find springtails in your home, you don't need to be concerned. They don't bite and they don't spread diseases. They're just gross. If you use natural pest management methods, you may be able to get rid of these pests without the need for control products. Here's how to get rid of springtails in your Yakima County home:
Use a vacuum to suck the tiny pests up. It isn't easy to suck springtails up but it is the best way to remove them from your home without crushing them.
Clean the area with soapy water. Springtails often die when they get inside a home. Cleaning the area where springtails are found will remove the dead insects which are a food source for other pests.
Use a caulking gun to seal the gaps, cracks, and holes that the springtails may be using to get into your home. Examine moisture points first, such as where the pipes come in underneath kitchen and bathroom sinks. Examine pipes and wire conduits that pass through your foundation walls. Examine exterior window and door frames.
Use a foundation repair kit to seal cracks in your foundation walls.
Remove attractants next to your exterior walls. We discussed these above. It will make a big difference if you're able to create a buffer zone around your home that does not have vegetation or damp conditions.
If your problem persists, reach out to Prosite Pest Control. Sometimes springtails get into wall voids, rotting wood, and other hard-to-reach locations. What can you expect when you reach out to Prosite Pest Control for springtail control? We're glad you asked.
Professional Springtail Extermination In Yakima County
At Prosite Pest Control, we use a field-tested process to locate springtails, evaluate conducive conditions, assess pest routes, apply treatments, and monitor the success of the treatments. While springtails aren't harmful insects, they can be quite a nuisance when they get into your home over and over again.
Knowing how to get rid of them naturally may not help very much if you don't have the skills, energy, or initiative to remove these pests, seal exterior entry points, and remove exterior attractants. But don't worry, we have you covered.
Reach out to us today to schedule our home pest control service. We can take the work out of dealing with springtails and give you long-lasting control of these nuisance pests. We can also guide you in getting year-round pest control for your Yakima County home, a control that provides coverage for springtails and a long list of other pests. There is no time like the present to get proactive about pest control.
Get Your Consultation Now!
Schedule Today! Please enter your contact information below and a pest control representative will contact you soon.
Affiliations & Accreditations