Get Rid Of Rats & Mice
With Help From Prosite
If you've heard scratching coming from your walls or ceiling at night, have discovered droppings in cupboards, or have even found yourself face to face with a rodent, then it's time to call in the professionals. Rats and mice are not just annoying, they're dangerous to people and property. When you contact Prosite Pest Control for professional rodent control in Yakima and Kittitas counties or elsewhere in Central Washington, you can count on our team to deliver results. We'll remove rodents that have infested your home or business, eliminate the health risks, and stop the damage these pests cause.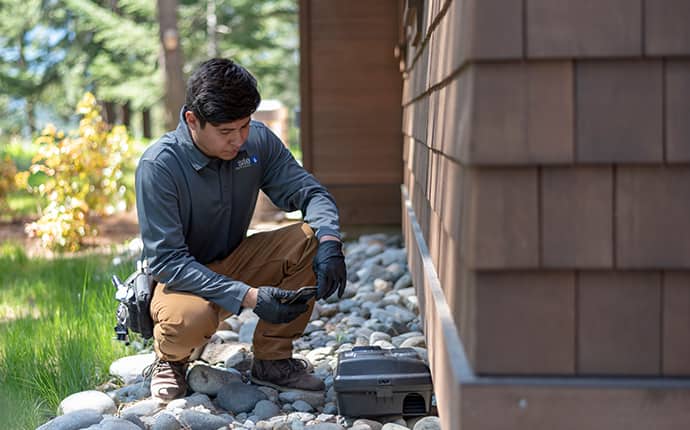 Our Rodent Control Process
In order to successfully eliminate rodents from residential and commercial properties and keep them out, we use our extensive knowledge of rodents, the tools of our trade, and a comprehensive process that ensures success.
Consultation
Our first step towards rodent removal is to perform a thorough inspection of the structure and property to identify if rodent activity is present, what type of rodent is infesting, and to assess the severity of the infestation. We'll inspect areas where rodents are prone to infest including under or behind appliances, basements, attics, dumpsters, cafeterias, etc. We'll also determine how they're getting inside and what conditions are encouraging them. Based on our assessment, we'll provide you a quote that includes the removal of rodents and possibly exclusion services.
Rodent Removal & Clean Out
Once we've determined the scope of the issue, we'll develop and then implement a customized rodent control plan that addresses the existing rodent population. Discreetly placed mechanical devices such as rodent traps will be used to bring the number of mice or rats down to zero. Based on your unique situation, we may also install exterior rodent stations around the perimeter for monitoring and baiting.
Exclusion
Unfortunately, if you can fit the end of a #2 pencil in a hole, a mouse can squeeze through. While larger in size, some rats can enter through holes the size of a quarter. If all potential entry points are not identified and corrected, rodents will keep coming in. As part of a comprehensive rodent removal plan, we will seal any holes that would allow rodents to enter.
Monitoring
To ensure the success of the treatment plan, we'll provide follow up service(s). Every rodent infestation is different (you may have a couple of rats or a full-blown infestation), we'll communicate what your monitoring program will entail at the time of service.
Ongoing Rodent Control Services
An effective rodent control program may include ongoing service which is why Prosite Pest Control offers ongoing rodent control services for both homes and businesses. In fact, if you're a homeowner who often finds yourself battling mice and/or rats, we offer home pest control plans that target general household pests AND rodents.
Prosite's Rodent Control Warranty
Your home or business may qualify for a rodent control warranty from Prosite Pest Control. To find out if a warranty is available for your property, please contact us.
Additional Pest Control Services
Rodent Frequently Asked Questions
What type of rats and mice commonly infest homes and businesses in our area?
In Yakima and Kittitas counties and throughout Central Washington, the roof rat, white-footed mouse, and deer mouse are the most common types of rodents. Visit our rodent pest identification to learn more.
How do I tell the difference between mice and rats?
From head to tail mice are smaller than rats by several inches. Mice also have smaller droppings (6 mm vs 12 mm) and gnaw marks (2 mm vs 4 mm) than rats. Mice have larger ears and pointy or triangular noises whereas rats have small ears and blunt noses. Both have long tails but mice have thin, hairy tails. Rats on the other hand have thick, scaly tails devoid of hair.
Can I get sick from rodents?
Yes. According to the Centers for Disease Control and Prevention (CDC), rodents have the potential to directly transmit several diseases including Hantavirus Pulmonary Syndrome, Leptospirosis, rat-bite fever, and Salmonellosis. They also introduce ticks, mites, and fleas onto properties. While Washington has very few cases of Lyme disease and other tick-borne diseases, the link between rodents and ticks should be noted.
I have hantavirus, did rats give that to me?
In our region, rats are not normally the carriers of hantavirus. Unfortunately, white-foot and deer mice are and we have those in abundance.
I have rodents in my house, how much is it going to cost?
The cost of rodent control depends on several factors including the type of rodent, the severity of the infestation, the size of the structure, and if exclusion services are necessary. When you reach out to Prosite Pest Control, we'll provide a consultation. Once we've assessed the situation, we'll communicate our findings and recommendations, and of course, provide you with a quote for the treatment.
Get Your Consultation Now!
Schedule Today! Please enter your contact information below and a pest control representative will contact you soon.
Affiliations & Accreditations