What are pavement ants?
Named because of their preferred nesting sites (in the cracks of pavement), pavement ants are common invaders of our yards, homes, and businesses. Brown to black in color, they are a small species of ant with adults growing between 1/16" and ⅛". Pavement ants may seem unassuming but can cause big problems for property owners when they invade in large numbers and create multiple nesting sites.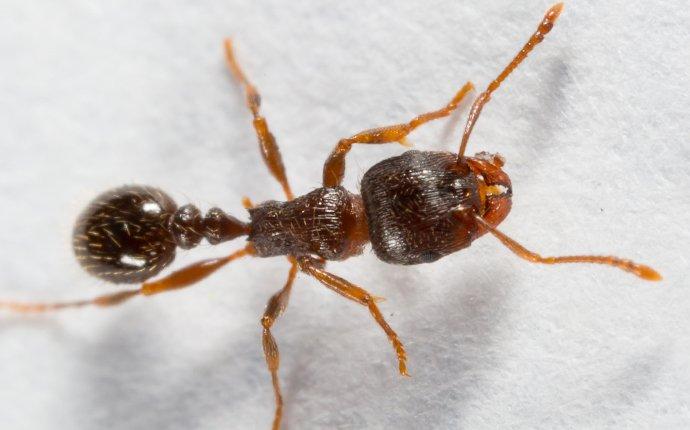 Why do I have a problem with pavement ants?
Pavement ants have become a problem on a property because it is providing them with suitable nesting sites close to multiple sources of food. These ants are frequently discovered walking near sidewalks, walkways, porches, and decks, carrying with them small pieces of food they have found. Known for their varied diet, pavement ants feed on many things including dead insects, seeds, honeydew, meats, nuts, and cheese. These ants forage for food in gardens, trash, compost, and your pets' dishes.
Where do pavement ants nest?
Nesting in the exposed soil in or next to sidewalks, driveways, and foundations, pavement ants live in close proximity to our homes and businesses. They often find their way inside while foraging for food. Indoor nesting spots include inside insulation, behind walls voids, and in masonry walls.
Are pavement ants dangerous?
Mostly nuisance ants, pavement ants pose no serious danger to people or property. However, their presence should be deterred because, like with any insect, they have the potential to contaminate food sources and spread bacteria on surfaces.
How do I get rid of pavement ants?
The accurate identification of the ants and knowing the location of the nest(s) is essential if you want to get rid of a pavement ant colony for good. At Prosite, we offer comprehensive pest control services that include an inspection. When you contact us, we'll conduct a thorough inspection of the property to identify the type of ant and how bad an infestation you have. We'll also locate entry points and determine what conditions in or around your structure are attracting them. Upon completion of our inspections, we'll discuss our findings and recommend a treatment plan to get rid of the pavement ants.
If you're interested in learning more about our pavement ant control services for Central Washington, please contact Prosite today.
How do I prevent problems with pavement ants?
At Prosite, we cannot emphasize the importance of sanitation and highly encourage Washington state property owners to clean often and thoroughly in order to keep ants out! We also recommend implementing the following useful prevention tips for pavement ants:
Use an appropriate material to seal cracks in sidewalks, walkways, and driveways.
Inspect the foundation, sealing any openings.
Place weather stripping around windows and doors.
Install door sweeps on exterior doors.
Make sure all outdoor trash cans and compost bins have locking lids on them.
Make sure all trash is placed in sealed containers until it is trash pick-up day.
Pick up uneaten pet food.
Keep kitchen and pantry areas free of crumbs and clean up spills immediately.
Store food in the refrigerator not on counters or tables.
Get Your Consultation Now!
Schedule Today! Please enter your contact information below and a pest control representative will contact you soon.
Affiliations & Accreditations