While there are many cockroach species in Kittitas County, Washington, only a few make pests of themselves. They are German cockroaches, brownbanded cockroaches, Oriental cockroaches, and American cockroaches. Each of these pest roaches are slightly different in terms of food and habitat preferences, but all of them present health risks. Cockroaches feed on rotting organic matter, sewage, animal feces, dead carcasses and other dirty things. This exposes them to harmful bacteria, parasitic worms, and other microorganisms. When they get into Kittitas County homes, they spread sickness in many ways. It is best to never allow these insects to live in your home. Unfortunately, it can be extremely difficult to keep them out. We recommend a multi-pronged process of habitat modifications, sanitation, exclusions, and food management to get control of cockroaches, and keep them out.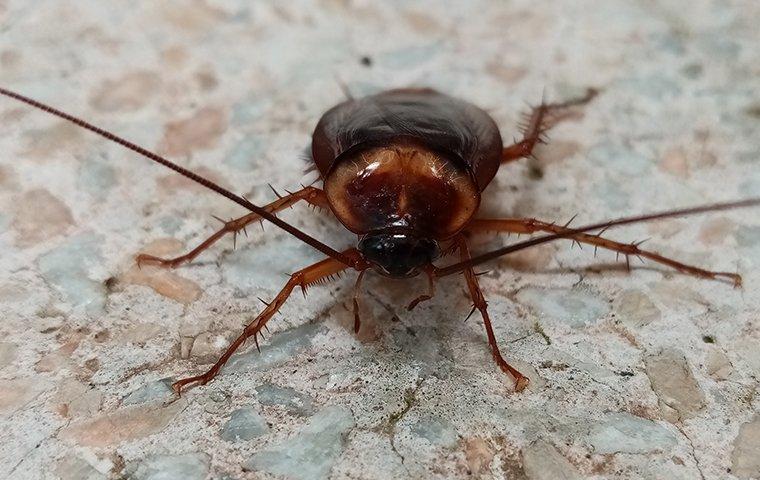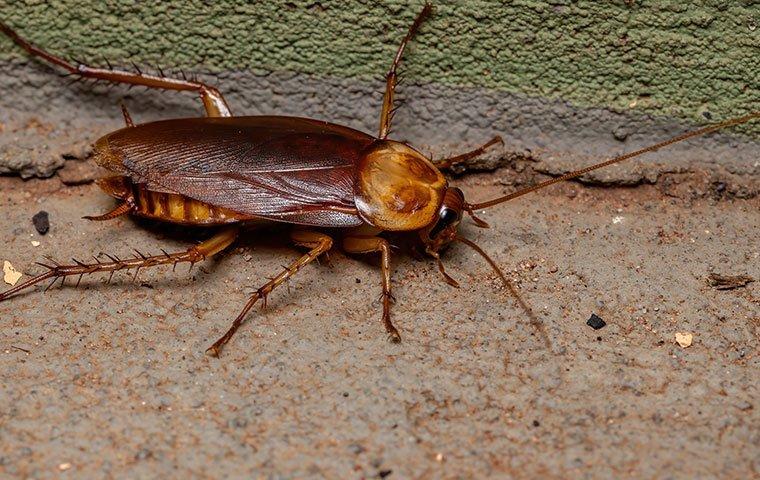 Altering The Habitat Around Your Home
At the heart of cockroach management is the science of habitat modification. This is an alteration of the environment around your home to naturally deter roaches. Here are a few examples:
Cockroaches have a preference for climbing around in woodpiles. Therefore, moving woodpiles away from your home can reduce populations near your home. Simple modifications like this can go a long way toward preventing indoor infestations.

Cockroaches prefer damp conditions because they need moisture to stay hydrated. Cleaning your gutters and repairing damage to your gutter system can reduce dampness in your perimeter and deter roaches.

Cockroaches hide under leaf piles, leaf litter, stacked branches, grass clippings and other organic debris. When you do yard work, remove the debris from your yard or put it far from your exterior walls.

Cockroaches will eat compost. Mix your compost properly to reduce the odor that attracts roaches.
Sanitation Practices
Cockroaches are particularly drawn to rotting organic matter and dirty things. It is important to keep things clean inside and outside of your home. This will make the environment less suitable for roaches.
Cockroaches feed on pet waste. If you have a dog that leaves waste in your yard, it is important to stay on top of cleaning it up. Otherwise, you may attract the unwanted attention of cockroaches.

Cockroaches will be attracted to a pile of garbage. They're not just drawn to rotting food but the moist cardboard packages that may be thrown away along with food. Make sure all garbage is stored in a trash receptacle, and be sure to put your garbage in plastic bags to mask the scent of decaying organic matter. Along with this, keep your trash receptacles as clean as possible and free of the odors that will attract roaches.

On the interior of your home, keep everything as clean as possible. Clean your pantry shelves and floor. Clean around appliances. Clean counters, cabinets, and floors in your kitchen. Clean crumbs and other food debris out of your couch. Clean your bathroom to remove hair, dead skin cells, and other food options—yes, roaches eat these things.
Cockroach Exclusions
Roaches are amazingly versatile creatures. They can scale walls, run across ceilings, and squeeze through gaps less than half their height. It is impossible to fully exclude them but exclusions will add a layer of protection to help you deter roaches and keep them out.
Replace the weatherstripping on exterior doors if you're able to see even the smallest of gaps.

Fix your window and door screens. There are helpful instructional videos on the internet for doing this.

Use a caulking gun to seal around plumbing and other moisture points.

Fill in wood holes created by wood-damaging pests.
Food Management
It is important to protect all food sources. Roaches are omnivores in the truest sense. They can eat practically anything.
Don't leave fruit out. Store it in your refrigerator.

Put dirty dishes in a sink full of soapy water so that roaches can nibble on the leftovers.

Refrain from leaving any food out on the counter uncovered.

Consider storing your food in sealed containers.

Do a sweep of your home and check for food left in wastepaper baskets, bathroom trashcans, or in unexpected places, such as under or behind the couch (This happens when you have kids).

Consider making a rule that food is only eaten in the kitchen or dining room.
If Cockroach Control Products Are Needed
It is possible to deter cockroaches naturally, without the need for a single cockroach control product, but when control is needed, it is best to have a licensed pest professional select and deploy these products. Cockroaches are robust, versatile and adaptable creatures. It can be very difficult to control them.
Are you in Kittitas County? Reach out to us here at Prosite Pest Control. We use the most trusted strategies to get roaches out and keep them out. We'd love the opportunity to help you find the right solution for your Kittitas County home. Connect with us today.
Get Your Consultation Now!
Schedule Today! Please enter your contact information below and a pest control representative will contact you soon.
Affiliations & Accreditations