What do fleas look like?
Adult cat fleas only grow to about 1/8th of an inch. They have flat hard bodies and are wingless. Black or dark brown in color, cat fleas are often mistaken for flecks of dirt until they use their large, powerful back legs to jump away from your examination.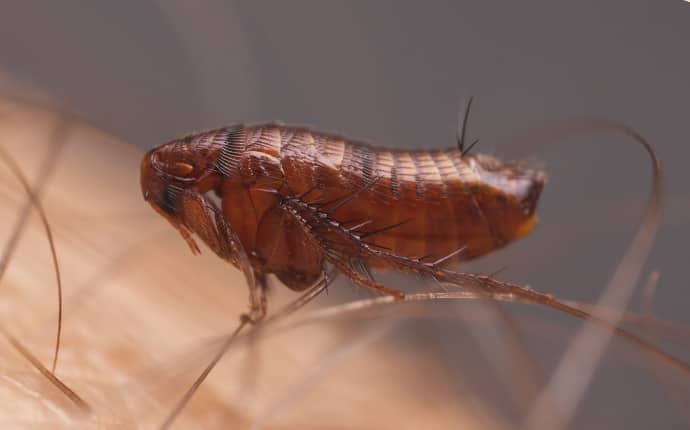 Why do I have a problem with fleas?
The cat flea, as its name suggests, is often found on domestic cats. However, they will infest other hosts such as dogs, rodents, and other wild animals. If you have pets that venture outdoors, it's entirely possible that they brought these biting pests in on them.
If you do not have pets but still have a flea problem, there are a few ways these pests could have arrived inside:
They may have been transported in on shoes, clothing, or other items.
Rodents or passing wildlife may have introduced them onto your property and they could have jumped right in through the front door.
If you are or have been experiencing a rodent infestation in your structure or even a wildlife problem, they may have brought fleas inside with them.
If your home was previously occupied by a pet owner, they may have left flea eggs behind.
Do fleas bite?
Yes, fleas bite in order to feed on the blood of their host. Fleas typically attack and bite the entire body of an animal and attack the legs and feet of a person. A flea bite appears as a small red spot that is encircled by a reddish halo. Flea bites are itchy and can cause a person, pet, or wild animal discomfort.
Are fleas dangerous?
While fleas have been linked to the spread of the plague, they do not currently pose a significant health threat to people. Flea bites can cause allergic reactions and excessive scratching of bites can lead to infection, according to the Washington State Department of Health.
How do I get rid of fleas?
Getting rid of fleas can be a difficult and frustrating task. In order to successfully eliminate fleas, property owners who have pests must work in partnership with their pest control company. At Prosite Pest Control, we recommend that your pets be removed for treatment at the same time as treatment is being performed in your home.
To learn more about our effective flea control services in Yakima and Kittitas counties, contact Prosite.
Get Your Consultation Now!
Schedule Today! Please enter your contact information below and a pest control representative will contact you soon.
Affiliations & Accreditations