Let Our Team Of Experts
Pest-Proof Your Home
Let's face it, no one wants to share their home with rodents and wildlife. Especially ones that are likely to cause damage, contaminate belongings, and introduce health risks. The best way to ensure that your home remains free of unwanted guests, is to make sure they cannot get in.
Exclusion or pest-proofing is a preventative service that stops mice, wood rats, bats, and wildlife from entering homes and is available from Prosite Pest Control. If your home has been infested by rodents and wildlife & you can't figure out how they're getting in, we can help!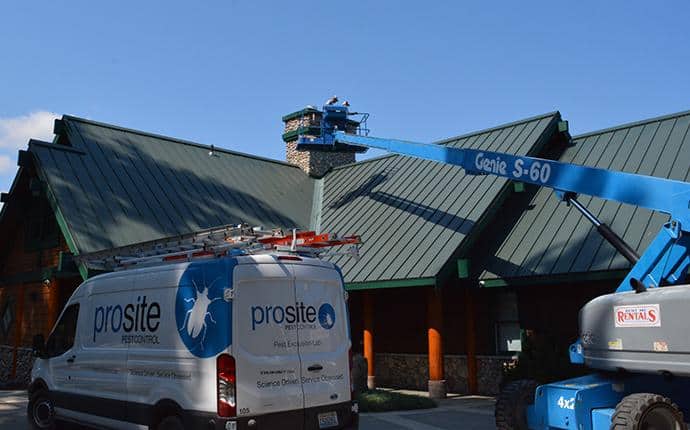 How Our Exclusion Services Work
Onsite Inspection
To identify the scope of the problem, we'll conduct a thorough inspection of your home to determine how pests are getting in. Conditions we'll look for include:
Gaps around plumbing penetrations and other utilities
Crawlspace doors that need to be replaced
Gaps in soffit edges, roofs, and walls
Damaged attic vents and crawlspace vents
Garage doors that are missing side and bottom seals
Holes in sub-flooring
Rotten or missing sill plates
Interior & Exterior Exclusion
Once we've established how and where rats, mice, squirrels, and other wildlife are getting in, we'll implement an exclusion plan that focuses on both the interior and exterior of the home. Rodent and wildlife proofing techniques may employ include:
Sealing any gaps, holes and openings on the exterior of the structure
Installing escutcheon plates to cover openings around pipes penetrating walls and floors
Adding or replacing screens in attic vents or louvers with rodent-proof screens
Installing Xcluder Pest Control Door Sweeps
Repairing minor construction issues
Additional Home Services
Frequently Asked About Pest Exclusion
What is pest exclusion?
Plain and simple, pest exclusion is the act of keeping rodents and wildlife out. Unfortunately these pests are adept at finding entry points into homes, and once inside, they'll make themselves quite comfortable. At Prosite, our exclusion services focus on identifying entry points and then correcting them. That could be as simple as sealing a crack on the exterior of the foundation or installing a door sweep or it could be larger and broader in scope. When you contact us, we'll develop a prevention place that ensures rodents and wildlife cannot invade your home.
Can you really figure out how mice are getting in and seal them out?
Absolutely, we can. Our pest control technicians are highly trained and licensed professionals well-versed in both rodent behavior and effective exclusion techniques. We know how to get rid of mice and rats as well as wildlife AND how to keep them out!
Does every hole need to be patched?
Even a small gap under the garage door or crack in the foundation could be a potential entry point for opportunistic rodents. In fact, mice can fit through holes as small as the end of a #2 pencil and rats can fit through openings the size of a quarter. In order to protect yourself from rodents and wildlife, we recommend addressing every potential entry point.
What pests can you prevent?
Our expert pest-proofing services will get rid of squirrels that are trying to get in, prevent small animals (such as raccoons and skunks), stop bats from infesting your attic, and get rid of rodents that are trying to invade your home! For rodent prevention or wildlife prevention, please reach out.
What if I already have rodents or wildlife in my home?
Before we can keep these pests out, we must evict them! At Prosite Pest Control, we offer property owners in Ellensburg, Yakima, Grandview, and throughout Yakima and Kittitas counties solutions that include rodent trapping and removal, skunk removal, and other wildlife removal solutions. Simply give us a call or fill out the form and we'll reach out to discuss!
Get Your Consultation Now!
Schedule Today! Please enter your contact information below and a pest control representative will contact you soon.
Affiliations & Accreditations