What Happens To Yakima County Ticks In The Winter?
November 8, 2021
When covered in a blanket of sparkling snow, Yakima County is a beauty to behold; but behind all that beauty lurks a danger no one expects to see during cold weather. Resting among folded leaves piled up underneath the snow could be some ticks just waiting for a slight melt in order to liven them up.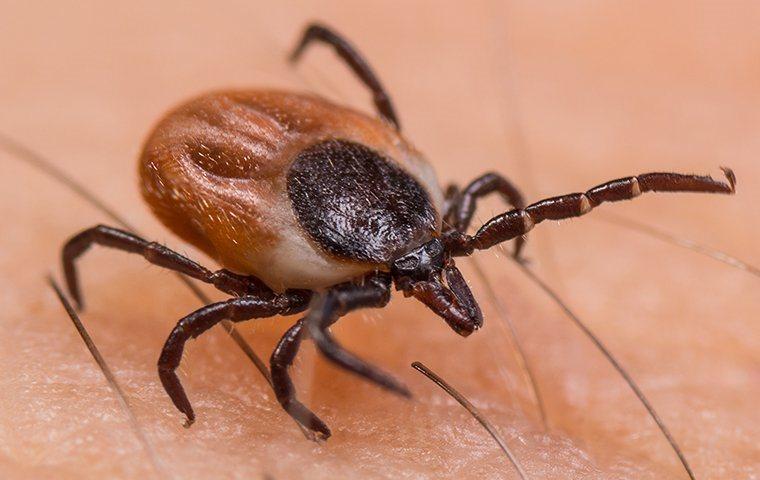 What Types Of Ticks Can Be Found In Yakima County?
When you compare Washington State to other states in the Union, ticks are not as widespread in the area. But they are there, and they cause some nasty tick-borne diseases. The Washington State Department of Health identifies the following ticks as the most common in the state:
Black-legged tick: As its name indicates, these ticks have eight black legs and an orange-brownish coloration. Their body is broad and oval; they have no antennae. These ticks measure 1/8 inches (female) to 1/16 inches (male).
American dog tick: This tick is primarily brown but has white-gray markings on its body. Its body is oval and flat. Adults have the typical eight legs and no antennae. When they are unfed, they can be as small as 3/16 inches, but after engorging themselves, they expand to about 5/8 inches.
Rocky Mountain wood tick: This tick is brown but turns gray when feeding; adult bodies are oval and flattened with eight legs and no antennae. They measure around 1/8 inches (unfed) to 5/8 inches (engorged).
Yakima County residents may experience a false sense of security now that the winter weather is approaching. It might seem like ticks have disappeared, but these blood-sucking arachnids are still around and remain dangerous to Yakima residents.
Little-Known Ways Ticks Survive The Winter
Some ticks go dormant during the cold weather, and others remain active by attaching themselves to warm, furry "taxis." When temperatures dip below 35 degrees Fahrenheit, most ticks will stay inactive, but others will latch onto an animal's warm skin (like deer and rodents) to feed and keep warm during the winter months. When there is more soil than snow and temperatures rise to about 45 degrees Fahrenheit, ticks can become active and search for a blood meal.
Ways To Prevent Ticks From Accessing Your Yakima County Property
Ticks do plan for the winter months, and your yard may provide the perfect accommodation it needs to survive cold weather. The key to preventing issues with ticks throughout the colder months starts in the fall with yard preparation. Property owners must be aware of things in their yard that allow ticks to take shelter during wintertime.
Seven things property owners can do to make their property unattractive to overwintering ticks include:
Cut your grass short.
Rake and dispose of any leaf debris lying around the property.
Remove brush, weeds, and tall grasses from homes and edges of lawns.
Install a three-foot-wide gravel barrier between your lawn and wooded areas.
Keep stacked wood well away from your home to keep rodents (tick magnets) away from your property.
Place a fence around your property to deter animals that carry ticks.
Remove any furniture or trash from your yard that provides shelter for ticks.
Why You Should Contact Prosite Pest Control For All Your Tick Questions
Finding out that ticks can still cause problems for Yakima property owners during the winter months might be a shock. While this bit of information may be surprising to Yakima property owners, it is not new to the pest professionals at Prosite Pest Control. Our pest control company knows all about these hardy parasites. Protecting your home and family is our highest priority.
In pursuit of providing property owners with excellent protection services, we offer SiteCare home pest control plans designed to protect properties year-round. Contact Prosite Pest Control today for advice or assistance in dealing with these year-round parasitic pests.
Previous
Next