Signs Of Damage Termites Leave Behind Around Yakima Homes
June 17, 2019
Central Washington is just starting to warm up for the summer, waking up all of the many bugs lying in wait in Yakima County. This is traditionally the start of spring cleaning and other summertime preparations, the most important of which should be checking for the seasonal damage termites cause in thousands of homes every year. In fact, termites cost over 5 billion dollars annually for U.S. home and business owners.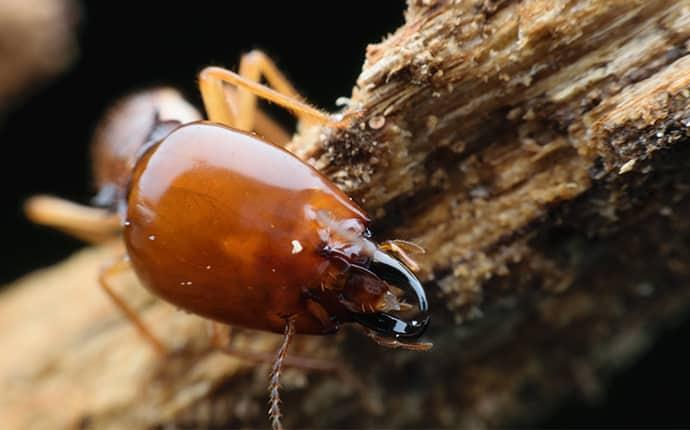 Springtime months are the period of peak activity for termites. As the temperature and rain levels increase, small, winged termites known as 'swarmers' begin to leave the main colony in search of new habitats. When these insect scouts find a comfortable spot, they will shed their wings and pair off with a mate.
While many swarmers will emerge from stumps, rotted wood, and other areas of the yard, spotting termites crawling out from under foundations or porches may be a sign of infestation within the home as well.
As the season progresses, infestation rates from termite colonies will climb in leaps and bounds. Protect yourself and your biggest investment this spring by recognizing the early signs of termite infestation.
How To Tell If You Have Termites
Despite their small size, termites have easily distinguishable body features. Unlike ants, termites do not have pinched waists, instead sporting a single, thick abdomen and straight antenna. Termite swarmers are the easiest to identify due to their long wings.
Termite colonies can often be found around their food sources, which include dead plants, wood, paper, plastic, and drywall. Termites eat wood along the grain, which can be a helpful sign for homeowners looking for potential spring threats.
Termites love to hide in moist or damp soil and build structures known as mud tubes along walls or other vertical spaces to provide protection as they forage from their food sources. Breaking open the tubes will often reveal tiny, yellow-white worker termites hard at work demolishing your property. This is a full-blown infestation that needs to be dealt with as soon as possible.

Sometimes, termites will provide no outward signs of infestation. As the interior of the structure collapses, the reinforced exterior may show few signs of its internal damage. Some termite colonies can hide behind paneling, insulation, concrete, or other impenetrable structures for years, sliding by entirely unchecked. This can lead to numerous issues for your home and personal belongings.
Termite damage
Termites are considered some of the most destructive insects on Earth, chewing through houses, pool lining, and even vehicle parts at a frantic pace. Supporting up to 1 million members, large termite colonies can eat over 15 pounds of material a day. Even boats have been known to sink due to heavy infestation.
Most damage will be invisible to the untrained eye. A skilled professional may be needed to identify its extent.
Call In The Central Washington Termite Control Pros
Termites are complicated pests that need professional care to eliminate entirely from your home and lawn. Termites will continue to breed, expand, and otherwise take over until strong measures have been put in place to stop them. Contact the pros at Prosite, your Central Washington pest control team.
Prosite offers professional termite inspections, helping you track down the roots of your infestation issue and plan a course of action.
Using proven termite control products such as Termidor, we have successfully ruined hundreds of termite invasions across Yakima County. Pre-treating your home against infestation is some of our pest pro's best handiwork. Our year-round pest protection plan will ensure that both you and your home stays termite-free for the active season now and in the years to come.
Previous
Next