It's Cold Here In Yakima, There's No Need To Worry About Pests, Right?
December 16, 2019
When it gets cold outside, you might be tempted to think that you don't have to worry about pests anymore. But there are several pests that can be a problem in the winter. We're not talking about the common holiday pests that we give holiday pest prevention tips for every year, like bed bugs and pantry pests. We're talking about the pests that can get into your home in the dead of winter.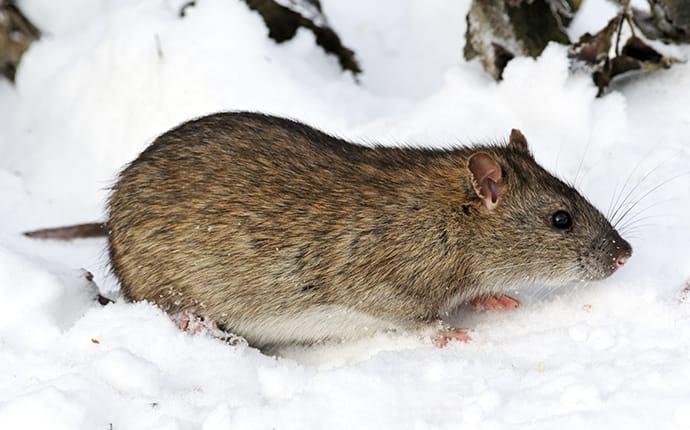 We are often asked, "Do you need pest control in the winter?" This is because our residential pest control plans give coverage for homes all year long. We understand the question. Insects and bugs go into hiding during the cold of winter and they don't generally invade homes in the winter. But there is a type of pest that does: warm-blooded pests, like rats. --Really? Do rats come out in the winter? They sure do. So do mice and squirrels. Rodents do not hibernate and they can be active outside all winter long.
Winter Rodents
Rats and other rodents have fur coats that help them stay warm. They'll come out of hiding on moderately cold winter days in search of food. You can catch a glimpse of one of these rodents running on top of snow and ice. When you do, you may wonder what food those animals are looking for. You would probably be surprised by what food a rodent can find. A common food source for pest rodents is bird seed near homes. Seeds are a dietary staple for mice. If you have a bird feeder, be aware that they can make your Yakima home more vulnerable to a rodent infestation because when rodents come near your home, they can discover heat leaking out. When they do, this can inspire them to chew their way in.
What to Expect When Rodents Get In
There are many problems a rodent can cause inside your home. Mice and rats are typically worse than squirrels because squirrels do not explore every inch of a home. They prefer to stay in attic spaces. But all rodents present the same problems:
They chew on wiring and can spark a house fire.
They destroy insulation and other building materials to create their nests.
They damage items that are stored in attic spaces.
They cause contamination with their feces and urine.
They bring parasites, such as ticks and fleas inside with them.
They sometimes make unwanted noises. But, more often than not, they quietly move around inside a home.
Mice and Rats
These two rodents will go down into your home through wall voids.
They often chew holes through sheetrock and baseboards to create access points for storage areas and pantries.
They leave their droppings and urine in sensitive areas, such as silverware drawers, dish cabinets and on food shelves.
They chew their way into food packages and contaminate the food inside.
Their dried waste inside air ducts can turn into airborne contaminants.
How can I control pests in my house?
When you find evidence of winter rats, mice or squirrels inside your Yakima home, it is best to contact Prosite Pest Control. Rodents can damage your property and affect your health. If you attempt to get rid of them and fail, you may not know it. They can continue to quietly move about your home and present a threat. The pest professionals here at Prosite Pest Control know how to monitor for rodent activity and ensure that all of the rodents infesting your home are removed.
For winter pest problems or to learn about year-round residential pest control, reach out to us today. We can help.
Previous
Next