What do bed bugs look like?
Bed bugs look different at each stage of life. The size of adult bed bugs are often compared to apple seeds. They have flat, oval bodies that brownish-red in color. After a blood meal, their bodies will swell up and turn a darker color. Bed bug nymphs are smaller in size than adults and are transparent in color. After eating, nymphs will turn bright red in color and are more noticeable than before they eat. Bed bug eggs are about the size of a pinhead and are white in color. To the untrained eye, bed bug eggs are very difficult to spot. They've also been described as sticky.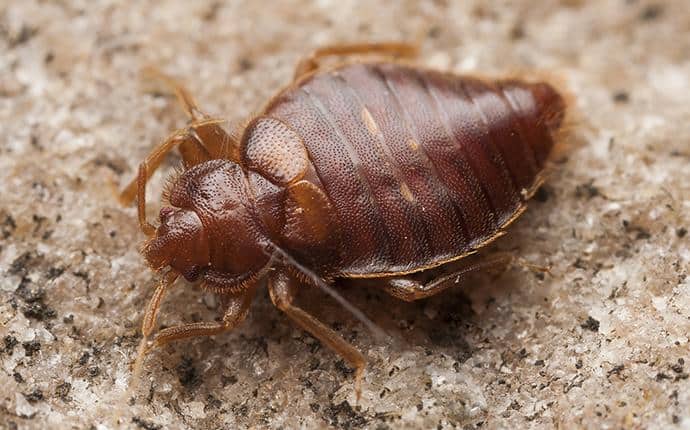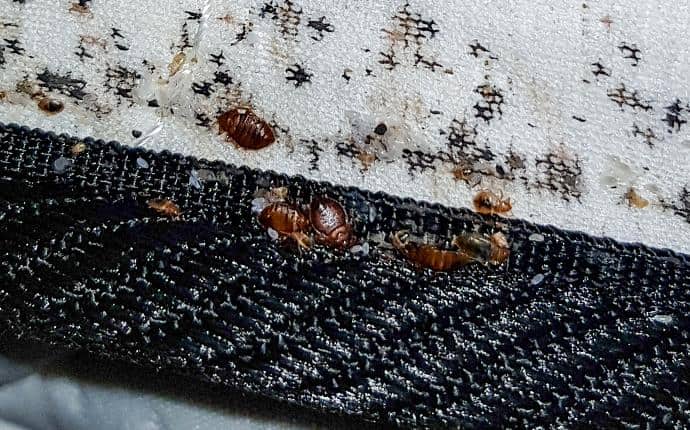 Why do I have a bed bug problem?
Have you recently traveled? Bed bugs are often encountered in airports, on airplanes, and in other forms of public transportation as well as in hotels and other commercial lodgings. You may be fighting a bed bug infestation because they arrived with guests or came home with your college student (bed bugs are a large issue in college dorms).
Nursing homes, schools, daycares, office buildings, shopping centers, and other facilities where people congregate are all susceptible to bed bugs. Really anywhere you find people, you could find bed bugs. You could also find bed bugs stowing away in second-hand items such as mattresses, luggage, furniture, and bags.
Where do bed bugs hide?
Bed bugs in Washington are often found on or around beds (or in other areas where people are sleeping). Headboards, mattresses, and box springs are very common hiding spots for bed bugs, but they can also be found hiding in:
Electronics
Upholstered furniture
Nightstands
Dressers/bureaus
Electrical outlets
Floor cracks or under carpeting

Are bed bugs dangerous?
Bed bug bites may produce a red mark and could cause itching and even skin irritation, but they're not dangerous. That said, sleepless nights and stress are often reported when bed bugs infest.
How do I get rid of bed bugs?
Professional bed bug treatments are highly recommended in order to be sure that 100% of the infestation is exterminated. DIY bed bug control is often ineffective and can cause the problem to spread to other areas of the home or even other units.
At Prosite Pest Control, we offer professional bed bug control services that start with an inspection. Our trained technicians know where and what to look for when it comes to bed bugs and signs of them. If bed bug activity is confirmed, we'll recommend a treatment that best suits your home or business.
For details on how we get rid of bed bugs, please visit our bed bug control page or simply contact us to learn more about our highly effective pest control solutions in Ellensburg and Central Washington.
How do I prevent bed bugs?
Be vigilant. If you're traveling, use hard-cased luggage, inspect your seat on the plane, and give your hotel room a thorough inspection to make sure the previous guests didn't leave behind an unexpected surprise.
Unpack carefully. After traveling you should wash your clothing at the warmest temperature permitted by the fabric. We also recommend vacuuming your suitcase before putting it away.
Clean thoroughly after guests leave. Once your guests have departed, inspect and clean the spaces they occupied thoroughly. Wash bedding and dry it on a high heat setting. Remember to also vacuum your floors.
Be careful with secondhand purchases. If you see a mattress marked free on the side of the road—leave it there! Be very cautious about bringing home secondhand furniture, clothing, bags, and other items that could harbor bed bugs.
Inspect new items too. Used goods are not the only ones susceptible to bed bugs, retail stores have also reported these bugs. It's a good rule of thumb to inspect all items you bring home.
Get Your Consultation Now!
Schedule Today! Please enter your contact information below and a pest control representative will contact you soon.
Affiliations & Accreditations